The trial of Thomas Otter
John Drury, William Bradbury's apprentice Master was the Coroner at a rather infamous Lincolnshire murder trial, which took place in 1805. Thomas Otter also known as Thomas Temporell/Temporal/Temple a married man working as a labourer in Lincolnshire, met and seduced a young woman from North Hykeham, Lincoln named Mary Kirkham. Mary became pregnant with Thomas' baby and the parish officers of North Hykeham, unaware that he was already married, ordered Thomas and Mary to marry so that the parish would not have to be financially responsible for the upkeep of Mary and her child. On Sunday 3 November 1805 Mary Kirkham and Thomas Otter were duly married in the parish church of South Hykeham, Lincoln.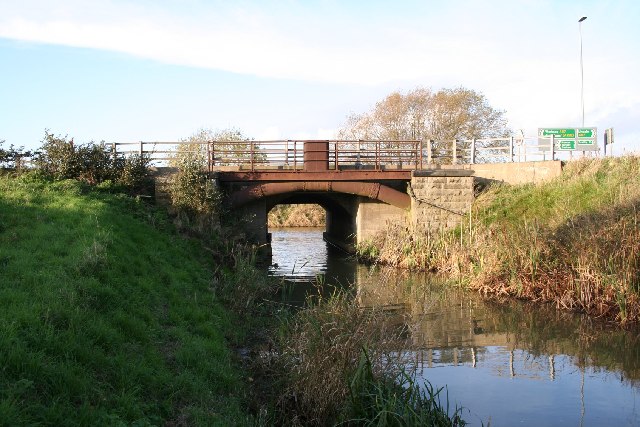 Tom Otter's Bridge over Ox Pasture Drain, near Drinsey Nook, Lincolnshire. The bridge is named after the infamous murderer. Photograph by Richard Croft CC BY-SA 2.0 (http://creativecommons.org/licenses/by-sa/2.0)], via Wikimedia Commons
The exact details of what occurred later on that Sunday are not known, however horrifically, the following morning Mary was found brutally murdered lying in a ditch near Drinsey Nook, about eight miles from Lincoln. Her skull had been fractured. A large club and a woman's patten (an overshoe designed to protect a shoe from mud) were found about forty yards from her body. Thomas Otter was arrested in Lincoln and brought before John Drury and the inquest jury at the Sun Inn, Saxilby, Lincolnshire on Tuesday 5 November 1805. [1] The jury returned a verdict of wilful murder against Thomas and he was committed to trial at Lincoln Castle. This trial took place on 12 March 1806 and lasted for five hours, with twenty witnesses appearing to speak against him. The jury took only a few minutes to reach their decision of guilty of wilful murder, and Thomas Otter was sentenced to be executed and for his body to be subsequently dissected.
On Friday 14 March 1806 Otter was hanged after admitting his guilt to both the attending clergy and the keeper of the gaol. At 10 o'clock in the morning his body, instead of being dissected, was taken from Lincoln Castle and placed in a gibbet on Saxilby Moor, close to the murder site. According to newspaper reports "great numbers of people went this day to see the body hang to the gibbet post". Some five years later a rather macabre postscript appeared in the local press, reporting of Thomas Otter "His body is again become a Living Temple, after hanging five years. There is a bird's nest in his mouth, containing several young birds, half fledged. Some people, last week, to satisfy their curiosity, took a ladder to the place, and saw the young birds in the nest, which is formed of moss." [2]
References
^ Stamford Mercury 08 November 1805
^ Stamford Mercury 24 May 1811